Operation and hours may be different due to Covid19. Please call for latest updates: 814-218-2222
Lisa Heidelberg's Courthouse Cafe, Erie PA.
Serving unbelievable, homemade lunches for $5 to $10. The whole idea for a café started when the courthouse searched for quick access to meals inside the building and an alternative to vending machines. Then in 2017, personal chef and caterer Lisa Heidelberg won the café contract and set up shop in the basement of the Erie County Courthouse on West Sixth Street.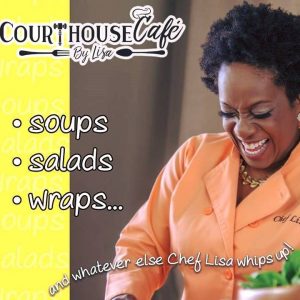 The café is decorated with a pleasant courtyard appearance and a neon "open" sign is visible from the parking lot. If you have trouble finding the café, just follow your nose to elevator five and go down to the lower level. Or take elevator three and walk a little farther.
"We've tried a lot of menu items, and the reason we have daily specials is that a lot of our frequent customers requested them," she said. "I'll give anything a whirl."
You will love this hearty, delicious food!
The wraps are served with a choice of homemade coleslaw, applesauce or a bag of chips. The coleslaw has a kick — a bit of a Cajun flavor and it's very light on the mayo — and is delicious.
The Southwest turkey wrap with black beans, roasted corn, shredded cheddar, lettuce and salsa is crispy and hot and pressed into a panini. The Italian deli wrap with capicola, salami, ham, provolone cheese, red onion, banana peppers, black olives, lettuce and homemade Italian dressing. You can turn the wrap into an $8 combo meal with a side of soup, the selection of which changes daily. The meats used in the wraps have less sodium and nitrates than traditional lunch meat, and patrons can also order gluten-free and dairy-free items.
Naturally, a café is known for its coffee, and Lisa Heidelberg has some tasty flavors from Premium Coffee of Erie to offer. Breakfast with Elvis, French Roast, Cuban and Jamaica Me Crazy are always on the menu, but seasonal favorites are also available.
QUICK BITES: Courthouse Café by Lisa

Location: Ground floor of the Erie County Courthouse, 140 W. Sixth St.; 814-218-2222. Also, find it on Facebook.
Price range: Breakfast, $2.50-$5; mini "sammie" meals with water and a side, $5; wraps $6.95; salads, $6-$8; soups, $3-$5; scoop of curry chicken salad, $3; combo meals with soup and a wrap or salad, $8; desserts, $1-$2; coffee, $2-$2.50.
Hours: Mondays through Fridays, 8:30 a.m. to 2 p.m., and if the courthouse is closed, so is the café.
Reservations: Not needed.
Credit cards: Yes.
Wheelchair accessible: Yes.
Child-friendly: Yes.
Dietary options: Call ahead for special dietary needs. Some choices are gluten-free, vegan and vegetarian.
Also notable: The Courthouse Café already makes deliveries inside the courthouse, but it might be making deliveries outside in the near future.
KNOW BEFORE YOU GO

To get to the café, you must enter the Erie County Courthouse's main entrance on West Sixth Street and pass through security. Since 2017, you will need to turn off your cell phone and put it in a locked security pouch that you take with you; the security staff will unlock the pouch when you leave the courthouse.