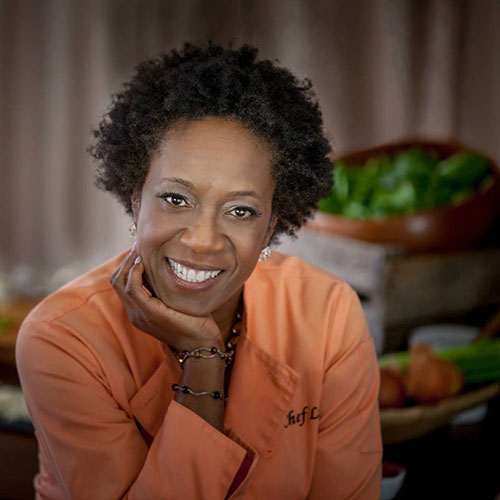 Dinner Is Served By "Lisa" Personal Chef & Catering Services was initially born to serve the needs of discerning clients craving healthy comfort food on a daily basis. Helping people directly by cooking for them in a positive environment and providing the highest level of service is my core mission. In addition to the personal chef service, Dinner is Served By "Lisa" is a Catering company. I love to be a part of my clients amazing special events with private dinner parties and small catering events as well. Each event is customized and personal. Dinner Is Served By "Lisa" Personal Chef & Catering Services is ready to provide you with this delicious, affordable, time saving service which "Brings Dinner Time Back to Your Home".
"

worked with my friends and I to create a special birthday menu built to go with five types of wine — it was wonderful, full of creativity and flavor and, of course, you get Lisa's AMAZING personality as a special side dish. She's wonderful!!!
"

Lisa sent meals to a grieving family from us. She was prompt, very reasonably priced, and so professional. I was told that the meals were outstanding and just what they needed! Thank you Lisa!
"

We had Chef Lisa cater us a meal for a family of 3. The food was AMAZING! We had the ham! Mashed potatoes, corn, and salad. Her home made dressing is the best. People, you have to try her awesome food. Thank you Chef Lisa. It was worth every bite.
"

She is so friendly and compassionate – so willing to work with you and plan.
"

Took my kiddos to grab lunch with Chef Lisa today and holy wow it was so delicious! I had her salmon with the best honey flavor, the roasted potatoes and green bean medley were so yummy! My boys ( 5 & 7) enjoyed and finished their huge fish sandwiches and my girls chose the potato and corn chowder, my picky eater daughter raved on how good it was and said she wished it would never end! I say that's a success! Keep up the amazing work feeding everyones souls Lisa Heidelberg, very well done!
"

You couldn't work with a nicer, more professional woman! Excellent food, ideas, creativity!

Creative cuisine

 · 

Great value

 · 

Good for parties

 · 

Professional staff

 · 

Delicious food